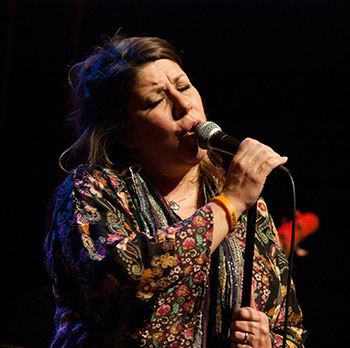 Erin Schwab knows how to work a song, and an audience. She's built that up over a career in musical theater with the likes of Tina 'n' Tony's Wedding and the national tour of School House Rock Live! That experience allows her to tackle just about anything under the sun, from covers of tunes by the Police to a selection from Avenue Q to originals based on her years as a working performer. Meanwhile, her warm approach and ability to work a crowd can be heard at local gigs at places like Hell's Kitchen, The Town House, or her album, Martini's & Cleavage.

Erin Schwab can be seen performing her Cabaret act with Jay Fuchs at Hell's Kitchen, Honey and The Townhouse where she also perfroms with Lori Dokken. She also sings with Metro Jam (metrojamband.com), Robert Bell's Twin Cities Hot Club and The Wolverines Jazz Trio and Big Band. Most recently, Erin was seen in The Ordway's Broadway Songbook Series: The Music of Stephen Sondheim, and Theater Latte Da's Production of Beautiful Thing at The Lab Theater in Mpls and is one of the National Hosts of Sing a Long Sound of Music. Erin is a member of both the Ensemble Dapartment and Voice Department Faculty at McNally Smith College of Music and is the Director of the Musical Theater Ensemble whose most recent productions, The Rocky Horror Show, Stephen Sondheim's Assassins, Schoolhouse Rock Live! and Rodgers and Hammerstein's Oklahoma!, played to enthusiastic crowds at the History Theater in St. Paul, Minnesota.
Erin is proud to be featured in Lavender Magazine's article on the local music scene.
She lives in Saint Paul, Minnesota, with her husband, Director and Theatrical Producer Michael Todaro, and daughter.
(Photo by Dan Brakke)